The turning of the new year made me nostalgic for the Grateful Dead.  This is odd, as I was never a committed Dead Head (but there was that amazing show at RFK Stadium with The Dead, Tom Petty, and Bob Dylan, along with the giant mud pit).  I think my nostalgia was fueled by the realization that The Dead were the original Troubadours of Stormwater — a little known fact, even in the water resources biz.
If you don't believe me, check out the photo montage below with selected Grateful Dead lyrics.  Um. . .an apology to the real Dead Heads out there — someone seems to have tinkered (bluntly, I must add) with the lyrics.  This I cannot explain.
Some of you will no doubt know these song lyrics, but for the rest, there is an answer key at the bottom of this post that also explains the photos and photo credits.
1.

It's just a box of rain, I don't know who put it there (the local soil & water conservation district?),
Use it if you need it, or drain it if you dare
2.

Sweetbay Magnolia, blossoms blooming, it's all native and I do care,
Saw vegetation down by the river, knew it's good to clean up the air. 
Sweet blossom come on, under the willow, we can have high times if you'll abide
We can discover the wonders of nature, buildin' a rain garden down by the riverside.
3.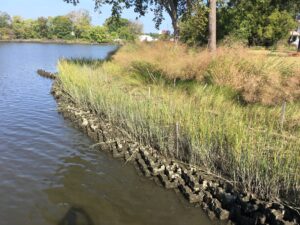 Come hear the Chesapeake Band, by the riverside,
Got a living shoreline now, here beside the rising tide.
Come hear the Chesapeake Band, playing to the tide,
Come on along, or go alone, we need to protect our shoreline home.
Wo, oh, what I want to know, where will the storm go.
4.

Sustainable Blue
When all the cards are down
There's no runoff left to see
There's just the permeable pavement left
Works like a dream
5.

Wake of the flood, laughing water, forty-nine,
Get out the pans, don't just stand there dreamin'
Get out of the way, get out of the way
6.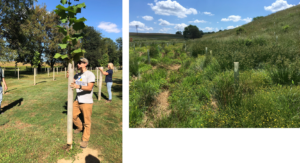 The landscape would be empty, if the trees were gone;
But it ain't right cause I love them, and that's not going to change.
Run me around and make me plant again and again.
But I'll still sing the trees some love songs, written in the letter of their species.
The rain is gonna come, oh it surely looks like rain.
I know there remain some doubters out there about the "Troubadours of Stormwater" claim.  Well, all I have to say is check out these thoroughly-researched academic treatises on the subject:
One Man Gathers What Another Man Spills: The Grateful Dead, Environmental Activism, and Sustainable Concerts, Thesis by Allison Gatyas, Florida Atlantic University (2018).
Playing by Nature's Paradigm: Systems Science and the Grateful Dead, by Christopher Chase, Fukuoka, Japan (1997).
Please feel free to forward to all the Dead Heads in your life. 
Answer Key (all lyrics by Grateful Dead, with some inexplicable modifications)
All photos by David Hirschman, unless otherwise noted.
1. Box of Rain
Left photo: Rainwater harvesting.  Collect rain off your rooftop and use for irrigation or other purposes.  Reduce runoff AND save potable water.  Photo: Greg Hoffmann, Center for Watershed Protection.
Right photo: Stormwater planter at Rivanna Conservation Alliance office in Charlottesville.  This is a rain garden in a box when you need to have your treatment above ground or as an interesting building feature.
2. Sugar Magnolia
Left photo: Bioretention/rain garden at Howard Community College, treats runoff from rooftops and parking lots.  The photo is of a Chesapeake Bay Landscape Professional — Associate class (CBLP-A).  This class at HCC was also supported by Howard EcoWorks.
Right photo: Rain garden at Binford Middle School in Richmond where the Alliance for the Chesapeake Bay has done some amazing projects with the students and faculty.  The photo is from a CBLP Level 1 class.
3. Uncle John's Band
Living shoreline and shoreline buffer in the Norfolk, VA area installed by the Elizabeth River Project.  This group and other NGOs are doing great work making our shorelines more resilient.
4. Stella Blue
Left photo: Permeable pavement being installed in an elementary school in Lynchburg, VA — a project sponsored by the James River Association and City of Lynchburg.  The pavers and stone reservoir beneath let rainwater soak into the ground instead of running off.
Right Photo: Permeable pavement at Binford Middle School, another Alliance for the Chesapeake Bay Project.
5. Here Comes Sunshine
Left photo: An intense storm on June 27, 1995 caused debris flows in the Moormons River valley in Albemarle County, VA.  Mountainsides became liquified and slid down steep slopes into the Moormons River and Sugar Hollow Reservoir.  Photo: Sam Austin.
Middle photo: This chilling photo was taken after the storm.  Luckily, the car was unoccupied when the flood carried it away.
Right photo: Route 614 was demolished by the flood as river cobbles and debris acted like giant sandpaper, erasing much of the road surface.
6. Looks Like Rain
Left photo: Riparian forest buffers are critical for the health or our waterways.  Here, participants take part in a class on how to design and install buffers, sponsored by the Chesapeake Bay Landscape Professional (CBLP) program.  Photo: CBLP.  Note: Ryan Davis REALLY does love the trees!
Right photo: Newly-installed riparian buffer at the State Farm Correctional Facility in Virginia.
MANY, MANY other organizations are also doing this type of work across the Chesapeake Bay region.  This has been an impressive effort fueled by the passion of many leaders and volunteers.
And of course, thanks also to the Grateful Dead!