Projects
Here is a synopsis of some of my recent projects.  As can be seen, my work involves many collaborations with colleagues from watershed organizations, other consulting firms, and government agencies.  Collaboration is an important hallmark for building abiding relationships and successful projects.
Chesapeake Bay Landscape Professional (CBLP) – Certification Program
Working with Beth Ginter, Shereen Hughes, and several other trainers, I recently completed a second year of training for this emerging certification program.  The program has attracted a broad range of certification applicants, including landscape designers and contractors, local government stormwater and landscape staff, and campus/facility managers, among others.  It was been very gratifying working with Beth, Shereen, and a spirited and talented pool of people who have become certified.  I believe this program is an important component in raising the bar across the Chesapeake Bay Watershed for sustainable landscaping and a more enlightened approach to planting design and maintenance for stormwater practices.
Year 2 training sessions encompassed two days of classroom and field sessions.  We visited many interesting BMPs in Virginia, Maryland, and Pennsylvania and learned valuable lessons about how design influences maintenance.  I also became certified myself as both a Level 1 and Level 2 CBLP, attesting to my own belief in the value of this program for our profession.  Check out the website below for more information.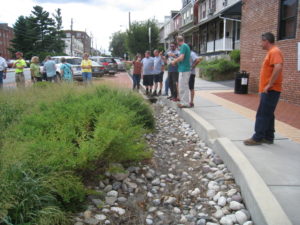 CBLP candidates assess a stormwater practice in Lancaster, PA
Alliance for the Chesapeake Bay (ACB) Binford School Green Infrastructure Plan
Schools seem to be becoming hubs for Green Infrastructure, and Richmond is leading the charge in Virginia, under the inspired guidance of the Alliance for the Chesapeake Bay and its RiverWise Communities program.  I had the opportunity to work with a talented team — Meredith Dash and Nissa DEan from the Alliance, Scott Guinn Dilworth from SG Designs, and Kip Mumaw from Ecosystem Services, LLC — to develop a student-led green infrastructure plan for the school grounds.  The students has opportunities to identify green infrastructure sites, fill out retrofit forms, calculated pollutant loads, and even make their own videos about each green practice.  Our team met several times with school administrators and facilities staff to ensure that the practices could be implemented and coordinated with the curriculum.  Final products included a report, a larger format "flip-book" showing potential green retrofits, and a Prezi project.

View from the Binford School Roof: maybe one day it will be a green roof!
Harrisonburg, VA Stormwater Improvement Plan (SWIP)

I have been working with project lead A. Morton Thomas, and fellow subcontractor Tetra Tech to assist the City of Harrisonburg with a Stormwater Improvement Plan (SWIP).  This effort involved mapping of candidate project sites, evaluating pollutant removal, prioritizing the sites, developing high priority site concept plans, and assessing possible stormwater program enhancements to help implement BMPs (the latter being my main area of focus).  The SWIP is emerging as an implementation blueprint for the City to construct BMPs that help with MS4 compliance as well as serve community interests.
Permeable Pavement at Bass Elementary School in Lynchburg
I worked with colleagues at Ecosystem Services and on behalf of the James River Association as part of their Walkable Watershed project.  We designed and provided construction support for installation of a small permeable pavement parking area at the school that was already being used for overflow parking.  The SWM PAVE system was used and BRACT Retaining Walls from Ashland, VA was the selected contractor.  The project gives the City of Lynchburg another demonstration of green infrastructure practices in a highly public location.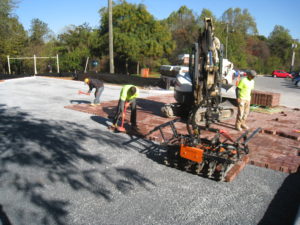 Crew from BRACT Retaining Walls installs the SWM PAVE system at Bass School
South River Science Team
The South River Science Team (SRST) is a fifteen year old effort to study and recommend remedial options for mercury contamination in the South River, which runs through Waynesboro, VA and north to its confluence with the South Fork Shenandoah.  The SRST has been coordinated jointly by DuPont and Virginia DEQ.  I have been a member of the SRST "expert panel" since 2010, mostly to bring a watershed perspective to a panel of scientists and researchers who are experts on mercury and river systems. I am now coordinating the Science Team and facilitating the Regulatory Advisory Panel, composed of citizen representatives from the area.
This has been a fascinating case study of informing implementation with science and using a collaborative approach.  The streambank remediation project at Constitution Park has been completed, and two others are underway in the City of Waynesboro.  Check out the very informative website:
http://southriverscienceteam.org/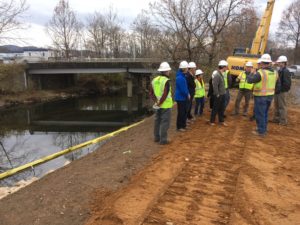 Members of the South River Remediation Advisory Panel tour streambank work underway in Waynesboro
Performance Enhancing Devices for Stormwater BMPs

BMPs keep getting better!  This literature review that I co-authored with Tom Schueler of the Chesapeake Stormwater Network (CSN) and Bryan Seipp from the Center for Watershed Protection (CWP) analyzes many research papers of how BMP performance for nutrient removal can be enhanced.  Strategies include adding amendments to soil media, adding internal water storage, and enhancing the role of vegetation.  The paper is available on CSN's website; the site also includes free downloads of two very informative webcasts on the subject.
http://chesapeakestormwater.net/2017/05/performance-enhancing-devices-for-stormwater-best-management-practices-final-report/
Lake Champlain Basin Green Stormwater Infrastructure Guide

I worked with Watershed Consulting Associates, a great small consulting firm in Burlington, VT, to produce this GI manual for the Lake Champlain Basin Commission.  We also hosted a series of webinars for practitioners to learn about the manual and some of the cool case studies.
http://www.lcbp.org/?s=green+infrastructure
James Madison University (JMU) Environmentally-Sensitive Areas

JMU is seeking a sustainability rating through the Sustainability Tracking, Assessment & Rating System™ (STARS).  STARS is geared towards college campuses, and helps institutions improve sustainability across a variety of metrics.  One of the metrics is Biodiversity.  I worked with a couple of brilliant colleagues: Devin Floyd from the Center for Urban Habitats and Liza Vick from the Central Shenandoah Planning District Commission.  We conducted web searches and a field investigation to document environmentally-sensitive areas on the JMU property.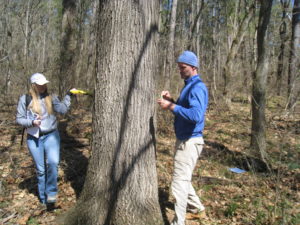 Devin and Liza measure DBHs at JMU's "farm" property
Habitat for Humanity, Southwood Mobile Home Park Redevelopment
Habitat for Humanity of Greater Charlottesville is implementing a national model, community-based redevelopment process at the Southwood Mobile Home Park, the region's largest concentration of affordable housing.  Southwood is currently home to 1,500 people and 350 trailer pads. Working with the residents at all levels, Habitat plans to transform the community into a mixed income, mixed-use development without displacing existing residents.  I  worked with Ecosystem Services, LLC to secure a NFWF grant to start designing some restoration projects for the site.  To date, we have mapped wetlands and stream buffers and conducted studies and conceptual restoration designs for "Stream 3," a severely degraded stream that runs through the heart of Southwood.  We also worked with Diana Foster from the Boys & Girls Club and many volunteers to build a trail along the stream to open access access and understanding among community members.
Coral Reef Watershed Decision Support Tool
For the past couple of years, I have been working with colleagues at the Horsley Witten Group, based in Sandwich, MA, on a NFWF initiative to assist island watershed managers with navigating the unique framework and decisions associated with protecting coral reefs from land-based sources of pollution. Anne Kitchell from Horsley Witten and I developed a multi-step watershed decision framework, along with profile sheets that delve deeper into different aspects of island watershed planning.  This decision tool is complete and ready for field testing.
Other Activities
In October, I attended the Chesapeake Conservation Landscape Council (CCLC) Turning A New Leaf symposium.  I participated in a panel on maintenance of green infrastructure, organized by Cheryl Corson.  I also gave a session on infiltration testing for stormwater BMPs.
I continue to served on the Virginia Conservation Assistance Program (VCAP) Technical Advisory Committee.  We assist the VCAP staff with BMP specifications and resources.
I also serve on the Virginia Environmental Endowment (VEE) James River Advisory Committee, assisting VEE frame a new grant program targeted to improving water quality in the James.
I have been a long-standing member of the City of Charlottesville Water Resources Protection Program Advisory Committee, working with the local staff to review the stormwater utility-funded program.