Projects
Here is a synopsis of some of my recent projects.
Performance Enhancing Devices for Stormwater BMPs

BMPs keep getting better!  This literature review that I co-authored with Tom Schueler of the Chesapeake Stormwater Network (CSN) and Bryan Seipp from the Center for Watershed Protection (CWP) analyzes many research papers of how BMP performance for nutrient removal can be enhanced.  Strategies include adding amendments to soil media, adding internal water storage, and enhancing the role of vegetation.  The paper is available on CSN's website; the site also includes free downloads of two very informative webcasts on the subject.
http://chesapeakestormwater.net/2017/05/performance-enhancing-devices-for-stormwater-best-management-practices-final-report/
Illicit Discharge Detection & Elimination in Hampton Roads

Working with  former colleagues at CWP as well as Lori Lilly and the great staff at the Hampton Roads Planning District Commission, we conducted training for MS4s on how to enhance their IDDE programs.  To top it off, we produced two videos that can be used for MS4 staff training.  The first one is for field staff from various departments that may encounter illicit discharges in the field.  The second is geared more to stormwater staff on how to conduct a drainage investigation to track and eliminate discharges.  We also produced a field guide for IDDE programs in the Coastal Plain.
Video 1 – Identifying Illicit Discharges in the Coastal Plain- https://youtu.be/N8Ng90PL7Tk
Video 2 – Tracking and Eliminating Illicit Discharges in the Coastal Plain – https://youtu.be/jTTNWNM8LWc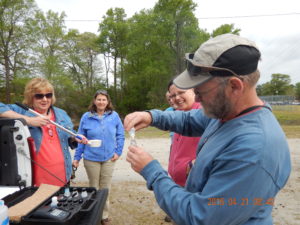 Lake Champlain Basin Green Stormwater Infrastructure Guide

I worked with Watershed Consulting Associates, a great small consulting firm in Burlington, VT, to produce this GI manual for the Lake Champlain Basin Commission.  Through the summer, we will be hosting a series of webinars for practitioners to learn about the manual and some of the cool case studies.
http://www.lcbp.org/2017/05/green-infrastructure-webinar-series/
Chesapeake Bay Landscape Professional (CBLP) – Certification Program
CBLP completed its pilot year last year, and the response was overwhelmingly positive.  I worked with Beth Ginter, Shereen Hughes, and the other trainers to put both classroom and field sessions for those seeking the certification.  Many talented and spirited landscape professionals completed the program and passed the certification exam.  We are now in the midst of organizing Level 1 workshops for 2017.  These are two-day affairs that combine classroom and field sessions.  See if there is one in your area and sign up!
CBLP Candidates take measurements and examine the soil in various BMPs during the maintenance practicums.
James Madison University (JMU) Environmentally-Sensitive Areas

JMU is seeking a sustainability rating through the Sustainability Tracking, Assessment & Rating System™ (STARS).  STARS is geared towards college campuses, and helps institutions improve sustainability across a variety of metrics.  One of the metrics is Biodiversity.  I worked with a couple of brilliant colleagues: Devin Floyd from the Center for Urban Habitats and Liza Vick from the Central Shenandoah Planning District Commission.  We conducted web searches and a field investigation to document environmentally-sensitive areas on the JMU property.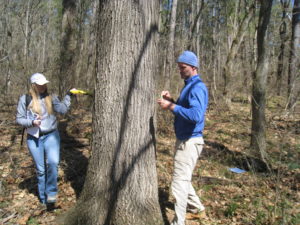 Devin and Liza measure DBHs at JMU's "farm" property
South River Science Team
The South River Science Team (SRST) is a fifteen year old effort to study and recommend remedial options for mercury contamination in the South River, which runs through Waynesboro, VA and north to its confluence with the South Fork Shenandoah.  The SRST has been coordinated jointly by DuPont and Virginia DEQ.  I have been a member of the SRST "expert panel" since 2010, mostly to bring a watershed perspective to a panel of scientists and researchers who are experts on mercury and river systems. I am now coordinating the Science Team and facilitating the Regulatory Advisory Panel.
http://southriverscienceteam.org/
Habitat for Humanity, Southwood Mobile Home Park Redevelopment
Habitat for Humanity of Greater Charlottesville is implementing a national model, community-based redevelopment process at the Southwood Mobile Home Park, the region's largest concentration of affordable (but dramatically substandard) housing.  Southwood is currently home to 1,500 people and 350 trailer pads. Working with the residents at all levels, Habitat plans to transform the community into a mixed income, mixed-use development without displacing existing residents.  I have helped Habitat with an environmental assessment of the property.  I also worked with Ecosystem Services, LLC to secure a NFWF grant to start designing some restoration projects for the site.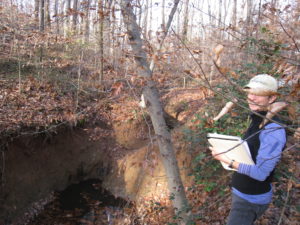 Surveying some of the existing stream erosion at Southwood with Diana Foster, who does environmental programming with the Boys & Girls Club based at Southwood.
Virginia Horse Center (VHC)

The VHC is a most popular place with anyone who rides and loves horses.  I am working with Arthur Bartenstein of ABL Landscape Architects and Hunter Young from the Civil Consulting Group to conduct a master plan for the property.  The plan will include infrastructure, circulation, uses, and environmental upgrades.  There are "plum" restoration projects waiting to be constructed!
Surveying possible wetland locations at the VHC
Virginia DEQ Inspector Field Training
I have worked with the DEQ stormwater training staff for several years, planning and conducting classroom and field trainings. DEQ staff very much like to get out in the field to learn how to assess stormwater BMP function, fill out checklists, and interact with their colleagues on lessons learned.  Last year, I worked with Lisa Hardy at DEQ and Ingrid Stenbjorn, Town Engineer for Ashland to put on a field training.  This year we are taking the show to Norfolk and Old Dominion University to see how they do BMPs in the Coastal Plain!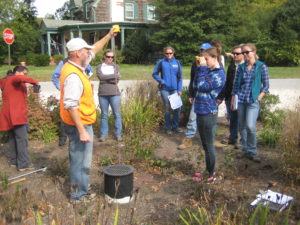 Participants take measurements at a bioretention area in Ashland, VA
Coral Reef Watershed Decision Support Tool
For the past couple of years, I have been working with colleagues at the Horsley Witten Group, based in Sandwich, MA, on a NFWF initiative to assist island watershed managers with navigating the unique framework and decisions associated with protecting coral reefs from land-based sources of pollution. Anne Kitchell from Horsley Witten and I developed a multi-step watershed decision framework, along with profile sheets that delve deeper into different aspects of island watershed planning.  This decision tool is almost complete and ready for field testing.
Alliance for the Chesapeake Bay (ACB) Binford School Green Infrastructure Plan

Schools seem to be becoming hubs for Green Infrastructure, and Richmond is leading the charge in Virginia, under the inspired guidance of the Alliance for the Chesapeake Bay.  I am working with Meredith Dash from the Alliance (speaking of inspired!), Scott Guinn Dilworth from SG Designs, and Annemarie Abbondanzo from Ecosystem Services, LLC to develop a student-led green infrastructure plan for the school grounds.  In April, we had some pretty brilliant 6th graders filling out retrofit forms and sketching their GI concepts.

View from the Binford School Roof: maybe one day it will be a green roof!
Harrisonburg, VA Stormwater Improvement Plan (SWIP)

This is not your typical SWPPP — it is a SWIP!  A. Morton Thomas is leading the charge to help Harrisonburg develop a plan that integrates many BMPs across the City to help with TMDL compliance as well as produce a plan that best serves the community.  TetraTech is also on-board to assist with BMP modelling and I am helping with programmatic elements, such as the possible role of a Public Private Partnership.