Projects
Here is a synopsis of some of my recent projects.  As can be seen, my work involves many collaborations with colleagues from watershed organizations, other consulting firms, and government agencies.
Stormwater Science
This past year, I have worked on several collaborative projects that have contributed to the state of knowledge of stormwater BMPs, and assisted local stormwater programs will aligning local specifications with up-to-date research.
Performance Enhancing Devices for Stormwater BMPs

What a name!  In fact, BMPs keep getting better.  A couple of years ago, I co-authored a literature review, with Tom Schueler of the Chesapeake Stormwater Network and Bryan Seipp from the Center for Watershed Protection, analyzing research papers of how BMP performance for nutrient removal can be enhanced.
Last year, I collaborated with CWP on a project funded by the Chesapeake Bay Trust to "operationalize" some of these BMP enhancements.  My part was to produce fact sheets for water treatment residuals, biochar, internal water storage, and enhanced vegetation management.  The  effort involved investigating how these enhancements can be scaled up from research to actual practice and integrated with BMP specifications.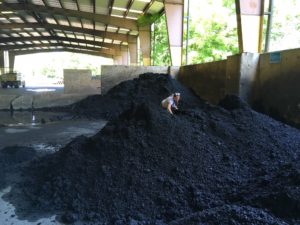 Could this by-product of the drinking water treatment process be the next great thing for treating stormwater?
The fact sheets are below.  Note that the Iron Amendment Fact Sheet was produced by colleague Andy Erickson from the University of Minnesota.
Vegetation_122418; Internal Water Storage_122418; Biochar_122418; Iron Amendments_122418; Water Treatment Residuals_011519
The original PEDs paper is available on CSN's website; the site also includes free downloads of two very informative webcasts on BMP performance enhancing devices.
http://chesapeakestormwater.net/2017/05/performance-enhancing-devices-for-stormwater-best-management-practices-final-report/
Metro Nashville — Updating the Science of the Runoff Reduction Method
Metro Nashville developed their own LID Manual in 2016, with specifications based largely on Virginia's Runoff Reduction Method.  Recently, as the LID Manual shifted from voluntary to a required component of stormwater plans, the Metro Government was interested in making sure the runoff reduction rates assigned to various BMPs were updated based on the most recent research (the original RRM Memo was published in 2008).
Metro contacted the original authors, and I had the opportunity to lead an exceptional team to review BMP research conducted since 2007.  Indeed, the new studies did result in recommendations to update runoff reduction rates for practices such as bioretention, green roofs, sheetflow, and permeable pavement.  Our team included Jon Hathaway from the University of Tennessee (along with a cadre of graduate students), Kelly Lindow from CityScape Engineering, Tom Schueler from Chesapeake Stormwater Network, and Marcus Aguilar, previously with Virginia Tech.
RRM Nashville_Report_FINAL_060718
District Department of Energy & Environment — Adding Water Quality Analysis to Runoff Reduction Update
On the heels of the Metro Nashville project, the team expanded to include the Center for Watershed Protection (CWP), as CWP was already working with DOEE on its stormwater program.  The resulting report built on the Nashville analysis to include research on the pollutant removal capabilities of BMPs for nutrients, toxics, and bacteria.  As with Nashville, DOEE is exploring ways to incorporate the new information into its BMP specifications and programs.
Runoff Reduction Revisited_DOEE_FINAL_092718
Chesapeake Bay Landscape Professional (CBLP) – Certification Program
Working with Beth Ginter, Shereen Hughes, and several other trainers, I am on my fourth year supporting the certification program.  My role has shifted from training road warrior (I have assisted with 16 Level 1 trainings across the Bay Watershed, leading the stormwater management components of the training) to supporting a new cadre of trainers and assisting Beth and Shereen with some program development.
The program has attracted a broad range of certification applicants, including landscape designers and contractors, local government stormwater and landscape staff, and campus/facility managers, among others.  It was been very gratifying working with Beth, Shereen, and a spirited and talented pool of people who have become certified.  I believe this program is an important component in raising the bar across the Chesapeake Bay Watershed for sustainable landscaping and a more enlightened approach to planting design and maintenance for stormwater practices.
Check out the website below for more information.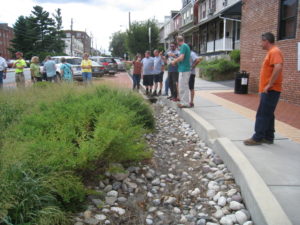 CBLP candidates assess a stormwater practice in Lancaster, PA
Piloting A CBLP-Apprentice Program With Howard EcoWorks
This past year, I worked with CBLP colleague, Beth Ginter, and the staff at Howard EcoWorks in Howard County, MD to pilot a CBLP apprentice program.  This is intended to provide workforce training for young adults as well as others who are looking to enhance job skills in green industries.  We have run the training twice and will continue to revise and improve the program based on feedback from the participants.  At the end of the training program, participants earn apprentice status through CBLP.  Howard EcoWorks is doing incredible work combining green infrastructure installation and maintenance with job training and workforce development.  Part of the CBLP-A effort was funded by a grant from the Chesapeake Bay Trust.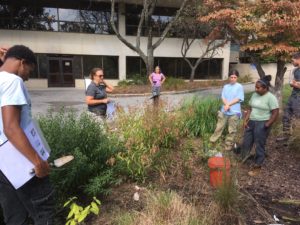 Participants in the Howard EcoWorks CBLP-A Workforce Training examine an existing rain garden and filling in with new plugs.
Workshop on Stormwater Landscapes Using Native Plant Communities
I co-taught a workshop with Devin Floyd from the Center for Urban Habitats, sponsored by the Virginia Department of Game & Inland Fisheries and the Chesapeake Bay Landscape Professional certification program.  The workshop was entitled: Stormwater Landscapes: Using Native Plant Communities for Conservation Design.  The workshop was held on September 12, 2018 at the Albemarle County Office Building in Charlottesville, VA.   Thirty-five people attended, including landscape designers, local stormwater program staff, engineers, and interested citizens.  We spent the morning in the classroom outlining the method.  The afternoon was spent in the field evaluating existing stormwater landscapes as well as reference plant community sites.
Stormwater at Schools
Alliance for the Chesapeake Bay (ACB) Binford School Green Infrastructure Plan
Schools seem to be becoming hubs for Green Infrastructure, and Richmond is leading the charge in Virginia, under the inspired guidance of the Alliance for the Chesapeake Bay and its RiverWise Communities program.  I had the opportunity to work with a talented team — Meredith Dash and Nissa Dean from the Alliance, Scott Guinn Dilworth from SG Designs, and Kip Mumaw from Ecosystem Services, LLC — to develop a student-led green infrastructure plan for the school grounds.  The students had opportunities to identify green infrastructure sites, fill out retrofit forms, calculated pollutant loads, and even make their own videos about each green practice.
Scotty and Meredith subsequently led the effort to implement some of the recommendations, including working with local sculptors on a very cool rainwater capture sculpture (see photo below), permeable pavement, and conservation landscaping, including Scotty's inspired spiral at the front of the school.  I assisted with technical support along the way, and enjoyed getting my hands dirty by helping Scotty and her crew plant a rain garden under the stormwater sculpture.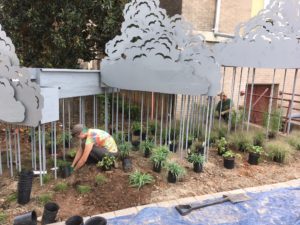 This amazing stormwater sculpture at Binford Middle School was created by sculptors Matt Lively and Tim Harper, supported by the Alliance for the Chesapeake Bay, SG Designs, and Richmond Public School.  The clouds "rain" during and after storms, fed by water from the school's rooftop.  The water drips onto the amended planting bed below. 
Other School Projects
This past year, I also worked with partners — The Rivanna Conservation Alliance and South River Science Team — to conduct school projects at an elementary school in Charlottesville and high school in Waynesboro, respectively.  It seems that stormwater in schools is a hot topic, fueled not only by making physical improvements to the campuses, but, more importantly, inspiring the next generation of environmental professionals.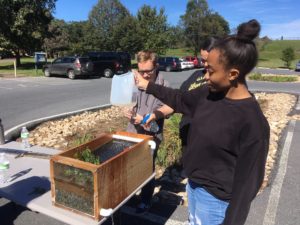 Students from Waynesboro High School use a bioretention model to see how water flows through the system, with the real-world practice in the background.
South River Science Team
The South River Science Team (SRST) is a fifteen year old effort to study and recommend remedial options for mercury contamination in the South River, which runs through Waynesboro, VA and north to its confluence with the South Fork Shenandoah.  The SRST has been coordinated jointly by DuPont and Virginia DEQ.  I have been a member of the SRST "expert panel" since 2010, mostly to bring a watershed perspective to a panel of scientists and researchers who are experts on mercury and river systems. I am now coordinating the Science Team and facilitating the Regulatory Advisory Panel, composed of citizen representatives from the area.
This has been a fascinating case study of informing implementation with science and using a collaborative approach.  Several streambank remediation projects have already been completed, and others others are underway in the City of Waynesboro.  Check out the very informative website:
http://southriverscienceteam.org/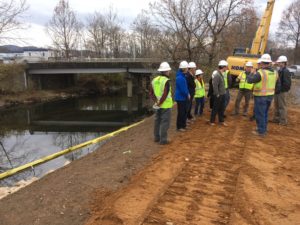 Members of the South River Remediation Advisory Panel tour streambank work underway in Waynesboro
Stormwater Planters at the new Rivanna Conservation Alliance Office
My local watershed organization, the Rivanna Conservation Alliance (RCA), recently moved to an office along the banks of the Rivanna River.  As with many city floodplain areas, the existing land use is largely industrial, characterized by an "asphalt jungle" feel.  RCA's symbolic move to the corridor is the vanguard of an effort to make this critical river corridor a bit greener and more river-oriented.
As an early effort, RCA wanted to do something about stormwater at the site.  However, it was not advisable to do anything that required excavation, given the site's industrial legacy.  I worked with RCA staff to design some above-ground stormwater planters, and we applied for and received a grant through the Virginia Conservation Assistance Program.  Our team worked through last year to secure approvals and design a project that meets VCAP standards.
Finally, the planters were installed in the Fall of 2018, and we are excited to see them greening up for their first growing season.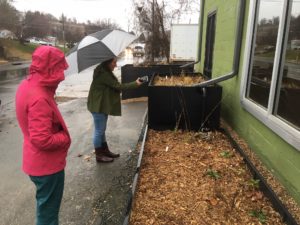 Stormwater planters at the RCA Office, only awaiting redirection of the roof downspouts.
Other Activities
I am working on stormwater retrofit projects, large and small.  With Ecosystem Services, LLC, I am developing plans to convert a large detention pond into a stormwater wetland in Albemarle County, VA.  I also designed and managed installation of a residential swale and rain garden system that manages excessive runoff from the City street and neighboring properties.
I have had a busy winter and early spring doing wetland delineations and managing the preliminary jurisdictional determination process for several commercial properties.
I presented at Environment Virginia 2019 about the Albemarle County private BMP retrofit project and some ensuing plans and projects that resulted from it, including dam removal/stream restoration and retrofits of older stormwater practices.
I assisted with a couple of webinars so far this year: one for the Chesapeake Stormwater Network on updated science for the Runoff Reduction Method and one for the Stormwater Committee of the Chesapeake Funders Network about stormwater and climate change.
I continue to serve on several advisory committees at the state and local levels: Virginia Conservation Assistance Program (VCAP) Technical Advisory Committee, Virginia's Chesapeake Bay Stakeholders Advisory Group, and City of Charlottesville Water Resources Protection Program Advisory Committee.